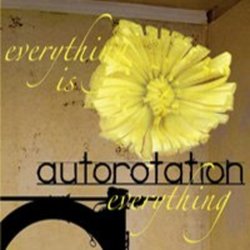 Autorotation
Everything is Everything
2009, TeknoStan Records
electronic dreampop

I'll admit that I'm a hesitant electronica listener, at best – I fancy guitars and pianos way too much to give them up. But there are times where an electronica album will come out of no where and basically hit me upside the head, which is what I experienced with Autorotation's Everything is Everything. I don't claim to completely understand the lyrics nor do I completely get the medley of sounds that are melded to form each song. However, there's a difference between not understanding lyrics and not having them at all, and with each listen it's obvious that Autorotation falls in the former category. Every song is intricately crafted and the minimal production quality gives it a delicacy that emphasizes lead singer Robyn Sellman's voice instead of drowning her out. It might take you a few listens to 'get' this band too, but knowing the lack of brilliancy in most of this year's album releases, that would be time well spent.
"Green Army Choir," "Metal and Wood," "Mittelschmertz – Norway Pumpkin Remix."
myspace, last.fm
Portishead's Third, Years of Rice and Salt's Service Bell EP
Disclosure: A free copy of the album was given to me by Igor Olejar of the band. Please see my review policy for more.
Tags: autorotation, everything is everything, portishead, service bell ep, third, years of rice and salt